Posted on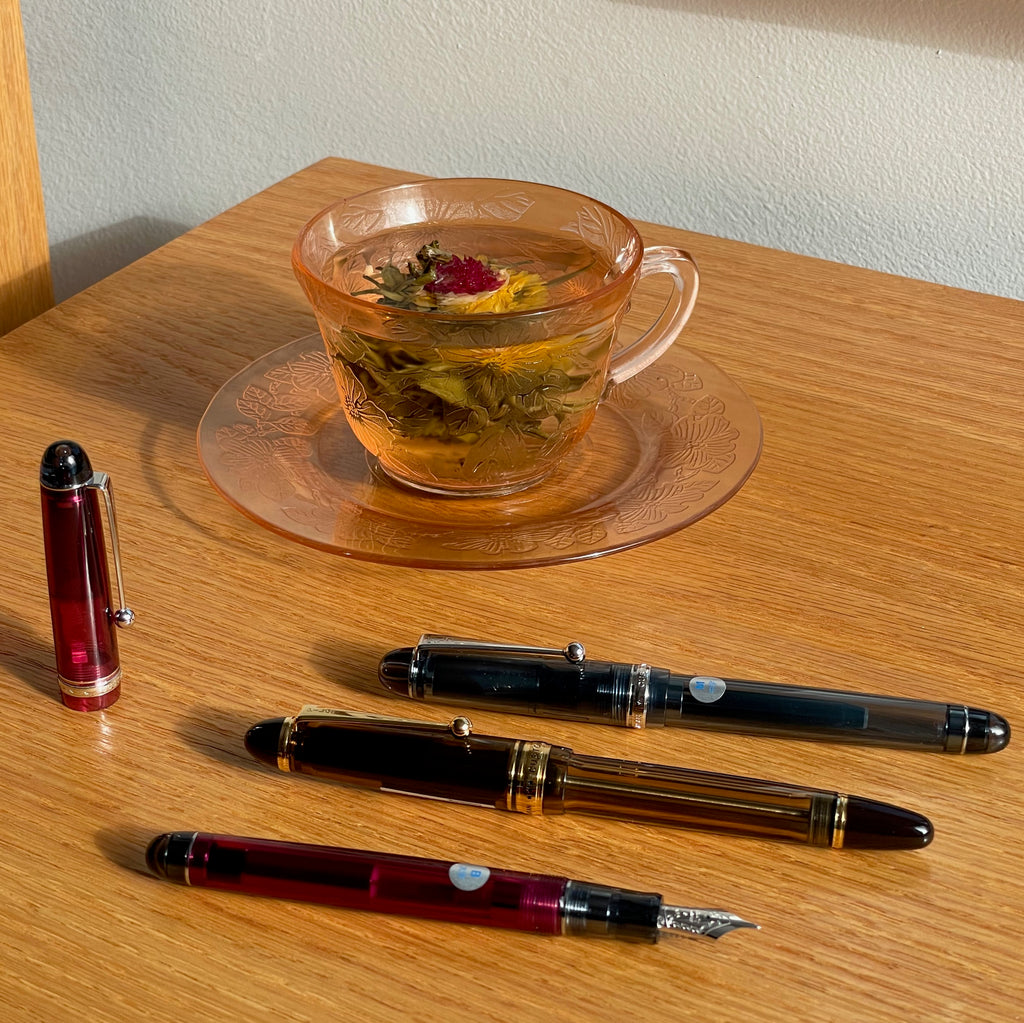 When Pen Boutique owner Leena asked me to write about the Pilot Custom 74 and Custom 823, I was thrilled. I love Pilot pens, and the majority of the pens I own are Pilots. I was already intimately familiar with the black double broad Custom 74 that I bought three years ago, which has always behaved perfectly. However, all the Custom 74s that we carry at Pen Boutique are the translucent demonstrator models, so they look very different from my solid black pen, and I had never tried a demonstrator pen! (I know, kind of close-minded of me!) The Custom 823 is also a demonstrator, so I started thinking a lot about...
Posted on
There are many ways we find to express ourselves. In this fast paced technology world there is an abundance of ways to do so. Many well-known authors from the past and present prefer the feel of a fine writing instrument in their hand while composing. Starting with his 1994 novel "Stardust" fantasy author Neil Gaiiman first used a Waterman pen with a large notepad. He enjoyed creating with a fountain pen. He now utilizes over 60 different pens which include, Visconti, Pilot Custom 823 Amber and Delta. Dylan Thomas preferred the popular Parker 51 fountain pen with its fast-drying ink....
Posted on
In Praise of the Pilot Custom 823 By Wesley James Young Pilot Custom 823 When I am asked what my favorite pen is, I always come back with the Namiki Custom 823. Now you are probably wondering what the name means. Thanks to that very same engine of procrastination which allows you to view this review, we can know the number represents year this pen was released, 82 years from the company's founding in 1918, and the 30,000 yen price on that release date. As for the custom, well no one seems to have a good answer for that portion....
Tags:

Category_Employee Personal Writing Corner, Category_Fine Pens, Category_Fountain Pens, Category_Japanese Pens, Category_Namiki Custom 823, Category_Namiki Custom 823 Review, Category_Namiki Pens, Category_Pilot Custom 823, Category_Pilot Custom 823 Review, Category_Pilot Namiki, Category_Pilot Pens