Posted on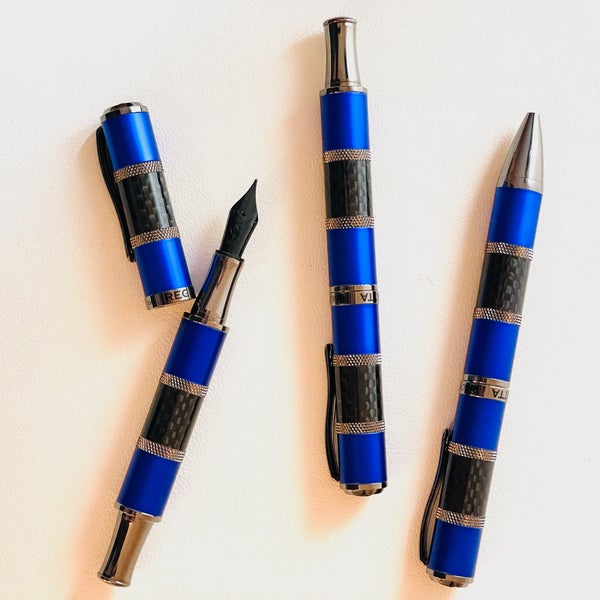 This week, Pen Boutique owner Leena asked me to write about the Monteverde Regatta Sport Blue fountain, rollerball, and ballpoint pens. We are newly offering a special set with the fountain and ballpoint beautifully paired together in the same box, and you can also purchase the ballpoint and rollerball from us individually. This is a retired edition and they are all being offered at a huge savings for a limited time (50% off for the individual pens, and over 50% off for the set!). I was excited to be able to try all three pens, and was given the three to bring home with me...
Posted on
One of the things that Monteverde does right is stand out from the crowd. No matter what, you are going to notice a Monteverde pen, whether it's on a display shelf or in someone's hand. Taking a cue from the colorful flags flown at boat races, the Regatta Sport line mixes carbon fiber sections with either bright red or yellow, or a full carbon fiber design. Not content with just these color choices, the Rose Gold Limited Edition was released. Limited to just 999 pieces in Fountain, Rollerball or Ballpoint, these are some eye-catching pens. Their limited edition number is...
Posted on
A regatta is a series of boat races. The term typically describes racing events of rowed or sailed water craft, although some powerboat race series are also called regattas. A regatta often includes social and promotional activities which surround the racing event, and except in the case of boat type (or "class") championships, is usually named for the town or venue where the event takes place.Although regattas are typically amateur competitions, they are usually formally structured events, with comprehensive rules describing the schedule and procedures of the event. Regattas may be organized as championships for a particular area or type...