It's been a while since I've written a Staff Picks article (last time, I featured Retro 51's Buzz Tornado), but I've been wanting to focus on the Waterman Carène since summer, and now is the time! Just to recap, to write my Staff Picks, I interview my Pen Boutique colleagues and ask them to tell me about a favorite product they own and use regularly. After hearing about why they love it, I try it for myself and see what I think.  This week's Staff Pick is from Raj, our COO (Chief Operating Officer) and husband of Pen Boutique owner, Leena.  COO sounds like a pretty serious role, and it is, but Raj is a very nice and fun guy, and he is always coming up with great ideas to promote my blog and social media videos. Thanks, Raj!  It was very interesting talking with him about the Waterman Carène, which is the pen he uses on a daily basis.  We first discussed it back in July, and I followed up with some additional questions this week.
First, a Little History
Waterman is a highly respected luxury pen brand that was established in 1884 in New York City by Lewis Edson Waterman, an insurance salesman. Legend has it that the pen he was using at work leaked all over a contract he had prepared for a large policy, costing him his client, so Mr. Waterman took matters into his own hands and invented the first truly functional fountain pen, revolutionizing the pen industry.  Waterman's Edson pen model, a precursor to the Carène, is named for him.
(Leena loaned me her blue Edson for this photo!  It's a beautiful pen, but quite a bit larger than the Carène. I would consider the Edson oversized. The ink is my well-used bottle of Waterman Inspired Blue. I love Waterman inks, and wrote one of my early blog articles about them.)
In 1900, Waterman gained public admiration at the Exposition Universelle in Paris, where it was awarded a Gold Medal of Excellence, the highest award. This early recognition endeared Waterman to the French public as an iconic brand, and its affiliation with France continued. Today, Waterman is headquartered in Paris, but is still owned by an American company, Newell Brands. All their fine pens are made in France, and are inspired by Parisian style, representing a timeless display of taste and self-assurance.
Waterman's pens are high quality, with a solid, substantial feel, and a refined, elegant look. They come in attractive and sturdy Waterman Prestige gift boxes in the traditional Waterman blue, with a lovely flowing wave design on the hinged lid.  The inside of the boxes are a pleasing soft cream colored suede fabric that contrasts beautifully to display the pen. I love the clean design of these boxes, with their precise corners and simple "Waterman Paris" written on top in gold.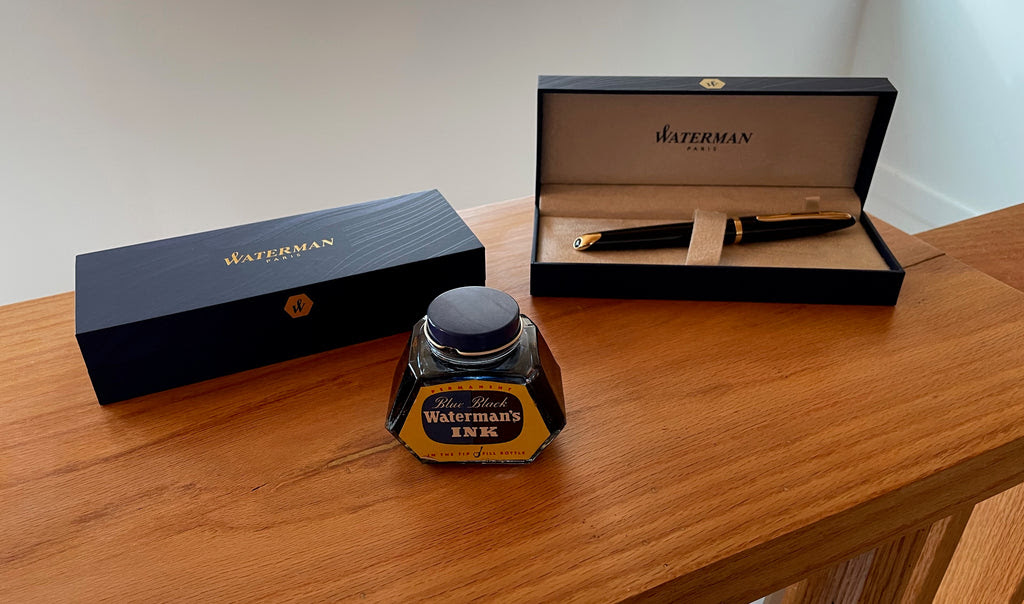 (My classic Waterman Blue Black ink bottle was given to me by my friend and fellow opera lover, Will, who introduced me to vintage fountain pens.)
I previously recommended the Waterman Expert as the ideal graduation (or other special occasion) gift pen, and the Exception and Hemisphere lines are outstanding as well. The Exception is a very striking and unusual quadrangular pen with an impressive silhouette and weighty feel, perfect for people who love heavy pens. Hemisphere is slim and stylish, with a stainless steel nib, so it's perfect for those who want the elegance of Waterman at a lower price point. Hemisphere comes in beautiful colors and has a lithe and fashionable feel. 
Our Waterman display case in the store is right in front of where I most often stand, so I am always admiring these pens' subtle grace and confidence, but I think I agree with Raj that the Carène model is my favorite.  The word "carène" means "hull" in French, and the pen is designed to call to mind the hull of a racing yacht.  Carène isn't a flashy pen, but rather one that conveys an effortless sophistication and debonair charm. It's available in both ballpoint and fountain, as you can see in my store photo below, but in this article I will be focusing on the fountain pen version.  They are both beautiful pens, and I think the Carène shape makes an especially handsome ballpoint, so if you want a matching set or prefer a ballpoint for some situations, the ballpoint Carène is a great choice, too.
(Carènes pictured are: Marine Amber fountain pen, Deluxe Black/Silver with Gold Trim ballpoint, L'Essence du Bleu fountain pen, Black Sea Silver Trim ballpoint, Marine Amber ballpoint, Black Sea with Gold Trim fountain, and Deluxe Black/Silver with Gold Trim fountain pen, all in our store exclusive Yak Leather A5 Zipped Folio in Crazy Horse Tan.
A Craving for Speed
Raj told me that, as a young man growing up in India, fountain pens were mandatory in school. His dad got him a Hero pen, which is basically a copy of the Parker 51, and he loves hooded and inlaid nibs to this day. Along with the Carène, the E95s and Sterling pens from Pilot/Namiki have a beautiful inlaid nib design, and the Parker 51, Esterbrook Phaeton, and Lamy 2000 have hooded nibs.  Raj enjoys using his Pilot Sterling Dragon fountain pen and says he also has the Parker 100, which he hopes Parker will bring back. But, of all these pens, his favorite is the Carène.
Raj studied at SBOA, one of the most competitive colleges in India, and they trained him to write very fast and write a lot. In business school, Raj honed his writing skills with numerous essays, along with copious class notes, of course. He feels like he can write much faster with an inlaid or hooded nib, and says his pen needs to have a fine point so it won't smear.  Raj told me a ballpoint pen will start skipping due to friction when it heats up, so, for him, using a fountain pen is crucial.
When I tried writing with the Carène, I understood what he meant.
I'm not sure if you can read my fast handwriting, but, I can, and that's what's important! As Waterman describes it, "The Carène's exquisite integrated nib complements its unconventional curved design and is crafted to glide effortlessly across the page." 
With his craving for writing speed, I think it's apt that Raj's pen of choice was inspired by a speedboat! The Carène's streamlined, aerodynamic look makes it appear as though it's zooming through the water, parting the waves with ease. I love the curve of the clip, and the way it gracefully rises at the end, with a gentle sweep that feels wonderful to run your finger along. 
The clip is 23k gold and is spring-loaded, so the pen clips easily to a shirt pocket, and slides right in to the elastic slots of a pen case. I love the feeling of slipping the Carènes in and out of the Yak leather cases I am using to transport them, and of clipping them onto my notebook.  It's so effortless and satisfying!
Balance and Control
When I wrote slower and more carefully, I was very impressed with the Carène's 18k gold nib and the control I felt. This pen has amazing balance, both posted or with the cap set to the side, and I love how it's up to the user where to hold along the grip section.  You can comfortably grasp the pen as close to the nib or as far back as you'd like, without any transitions between the nib/feed section, grip section, and pen's body digging into your fingers--and, because this is a convenient (and secure) snap cap, there are no annoying threads, either.  As you can see, my natural inclination was to hold the pen extremely close to the tip, which allowed me great precision but never got my fingers inky.
The Carène is a mid-sized pen, with a capped length of 14.5 cm, uncapped length of 12.8 cm, and posted length of 14.8 cm.  The grip diameter is 10.2 mm and the maximum diameter 13.3 mm. The pen weighs 1.16 oz / 33 grams capped, and 0.81 oz / 23 grams uncapped, when empty. To me, this is an extremely comfortable size--neither too heavy nor too light, and I think it's suitable for both men's and women's hands.  The barrel is lacquered brass, but it feels almost weightless when I write with it. 
Like Raj, I preferred the fine nib on the Carène, although for me the reason wasn't speed. I wrote in my notebook, "Very nice! The nib is wet and smooth but very controlled. It feels like I am writing with a precision instrument. It's not intentional, but I am writing much smaller and neater than I usually do. I think it's because I have so much control.  It is a very different feeling and I like it."
When I tried the medium nib with the same ink, I wrote, "This medium nib feels completely different! It's much thicker and very wet and super smooth. It is fun to write with and shows a lot of nice shading with this Sailor Konagi ink."  (Both nibs also showed beautiful sheen with this ink, as I noticed later when the sunlight hit my page!) "The pen glides over the page. I don't think I've ever experienced such a huge difference between the fine and medium nibs of the same pen!  Totally different personality."
Incidentally, you may have noticed that the nib size isn't written on the nib.  It's actually imprinted on the underside, near the breather hole on the bottom of the nib section.  In order to get a full fill from a bottle of ink, be sure to fully submerge the breather hole.
Here's another writing sample with both pens using the same ink.
Raj told me he got accustomed to the hooded nib fountain pens he practiced with in school, and when he started to try other fountain pen pens with larger nibs, his handwriting was not the same!  He was frustrated at first, but then stumbled upon Waterman Carène and found his ideal pen.  "I love the smoothness it writes with, and the weight and balance is superb.  It is a breeze to write with." 
I agree. Not only is the Carène different and attractive, it feels wonderful in the hand and is the kind of pen that becomes a favorite, a loyal companion that is part of your identity and is ready to accompany you wherever your dreams take you.
(The book in the photo was written by one of our customers, James! He came in to buy matching purple ink to use in his book signing, and loaned me a copy.)
Carène's Many Personalities
These days, Raj uses his Carène to write notes about what he wants to learn, because it makes him remember it better.  He loves learning about business and what Pen Boutique can do next and do differently. Raj's favorite Carène is a vivid blue color that isn't made anymore, and he pairs it with Sailor's Sailor ink (also no longer available!), a beautiful blue ink that matches the pen.  I'm not lucky enough to be hoarding a bottle of Sailor's Sailor ink, so, for me, that wasn't an option, and I paired the new L'Essence du Bleu Carène with Sailor Konagi, another gorgeous and vibrant blue ink.  Raj and I agree that the L'Essence du Bleu Carène is stunning, and Raj confessed that he also wants to get the Marine Amber model.  He also owns the Deluxe version and the black and gold version, so Raj is definitely a big Carène fan!
I can't quite decide which Carène variation is my favorite, but the Marine Amber is the most unique color and really looks breathtaking in the sunlight.
It has a regal look and pairs beautifully with Sailor Nagasawa Kobe #7, Kaikyou Blue, aka Strait Blue, a deep wet blue-black ink with amazing sheen that matches the rich burgundy and black marbling in the pen. The sheen blew me away when I wrote with the pen, as the words appeared blue-black from above and transformed with a fiery metallic gleam as I moved the paper. I recorded this effect in an Instagram video.
The L'Essence du Bleu Carène catches my eye most often, and I love all of Waterman's L'Essence du Bleu pens, which feature deep blue lacquer on the  barrel and Waterman's signature wave pattern etched on the palladium plated cap. As a water lover, this pen makes me feel serene and calls to mind many happy memories. I love the way the light catches in the wavy pattern on the cap and constantly changes, just like the way sunlight does on waves in water.  
When I originally considered writing about the Carène, I had one home with me and took it to an opera, where the waves glittered like the "diamonds" you see glinting on the surface of a river or lake on a sunny afternoon. So beautiful!
I also love the simplicity and effortless cool of the Black Sea Carène with Silver Trim.  This version of the pen looks the most modern to me, and is so streamlined and sleek, like a beautiful luxury sports coupe.  
I think I would be tempted to choose it if I were to buy a Carène. This simple and stylish version seems the most "me."
I'm very attracted to the Deluxe Black/Silver with Gold Trim version of the Carène, too, though.  The elegant ridged cap looks great in silver, and the contrasting gold trim brings the details into focus more than on any of the other Carènes. With this version of the pen, I notice and appreciate the gold cap band embossed with "Waterman" and "France," and admire the sweeping curve of the clip more than ever.
This Carène has a nostalgic look to me, and makes me think of a 1930s cocktail lounge. I almost feel like this is the best Carène of all, but it really depends on what feeling you want to evoke. It's kind of crazy how many personalities the Carène has!
I don't think I'd choose the Black Sea with Gold Trim Carène for myself, but it's the most traditional and classic Carène, the one that looks like a very classy gift pen, executive pen, or signature pen belonging to someone with a strong and self-assured personality.  I teamed it up with the Edson in the very first photo of this article, and they are a timeless pair.
I also introduced this Carène to my Pilot Elite, and they look great together, showing off their beautiful inlaid nibs.  The Carène comes with the very high quality converter shown in this photo and a Waterman Serenity Blue long cartridge. It takes Standard International cartridges, so you can easily fill it with many brands' long or short cartridges on the go.
Which Carène personality is your favorite?  I still can't decide on mine, but they are all beautiful and wonderful writers. You have good taste, Raj! 
-Laura P.
(By the way, if you'd like the gift box in the photo, make a note when you place your order for a Waterman pen. You can get one for free, while supplies last!  It holds three pens, ties with a blue satin ribbon, and includes a set of four cards and envelopes. But no, sorry, my vintage fish pen is not for sale! It was another gift from my friend Will.)
I love comments on my blog!  Please leave comments if you like the articles, and, if you have any questions about this article, or any of the other blog articles, you can e-mail support @ penboutique.com.  Thank you!
Similar pens with hooded nibs:
Pilot Sterling Silver fountain pen
ST Dupont Millennium fountain pen
Esterbrook Phaeton Fountain pen